On Wednesday night, June 10th, Beta Nightclub hosted Bassrush, which featured 12th Planet and Loudpvck. Loudpvck performed first and 12th Planet followed. The DJs closed off the night with an awesome B2B set.
To put it simply, Loudpvck killed their set. I've never heard of them before, but during their set I couldn't help but think that 12th Planet had a tough act to follow. Loudpvck was definitely more trap than Dubstep, but the bass they produced was fun to dance to nonetheless.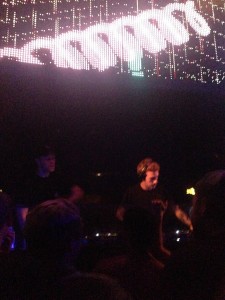 12th Planet went up next. I had seen him at a show before, and thought it was just a really fun time. I wondered how he was going to be at Beta, and I felt the same way this time around too. In my opinion, 12th Planet is very representative of the Dubstep genre. He has a very bass-heavy sound; it would be hard to not dance to it and enjoy yourself. I really respect him as a Dubstep DJ because you can really see it in his sets that he's having fun and experimenting with his sound. He's bringing the audience in to have fun with him too.
I love when DJs come together and perform a B2B set. It really changes the energy of the show, and I know their fans enjoy it. Loudpvck and 12th Planet were so in synch with each other, bouncing each other's sound back and forth. Even though it was a Wednesday night, I wasn't ready for the show to end. I felt like they just got started!
Bassrush was just a really fun night overall. The vibe in Beta that night was very different from most other nights I go. Since it was a Wednesday night, I really felt like most of the "bros" that usually come out on a Friday night stayed home and Loudpvck and 12 Planet's fans were in attendance that night. Check them out on SoundCloud if you haven't listened to them before: