Let me just start by saying that Bassnectar's show at Red Rocks Saturday night might be the best performance I've ever seen. He performed for 3 nights at Red Rocks.
Before I get into that, let's briefly go over the openers:
jackLNDN opened first and the crowd wasn't excited in the least. I could only see a few people around me dancing, while everyone else remained seated. I heard someone next to me saying that he was killing her vibe.
Next up was Son of Kick. I felt bad for jackLNDN because once he got off stage and Son of Kick started playing, everyone got up to start dancing. I thought he was pretty good and was a great choice to open for Bassnectar.
Benga came on right before Bassnectar and I had mixed opinions about him. His music was very bassy and fun to dance to. I would have enjoyed it more if he didn't talk into the mic for basically every song performed. At the end of his set, he even stated that he was going to play one more song, but then ended up talking too much that he ran out of time! Annoying to say the least. But he definitely is a great Dubstep artist.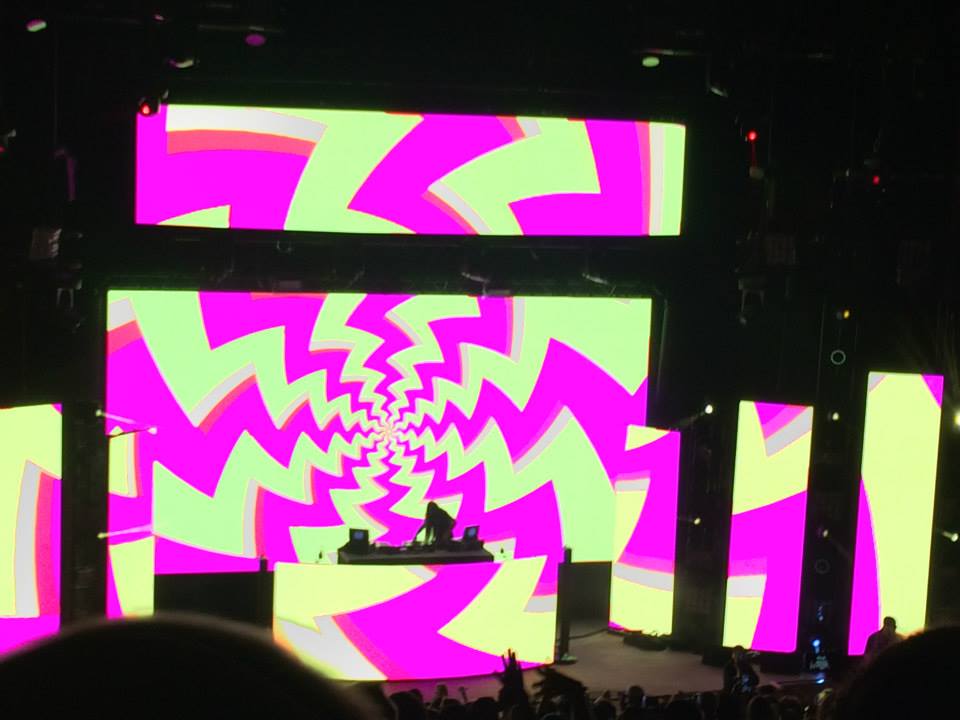 And finally, Bassnectar was up. I immediately became excited when I saw that on his laptops he brought out, there was his notorious Bassnectar symbol instead of the Apple symbol. Super cool.
Bottom line, Bassnectar has an amazing production. I've always heard people say that nothing else beats it, and they were certainly right. I was told that Friday night the show was more trippy whereas the Saturday night show was very bassy. Saturday night was in fact extremely bassy. The sound was so intense and I could feel the bass vibrate through my body. I also wish I went Friday night to see just how trippy it was because I felt that Saturday night had trippy visuals on its own. They were very geometric and contained different images with bright colors. All of it went so well with the music and changed as the music changed.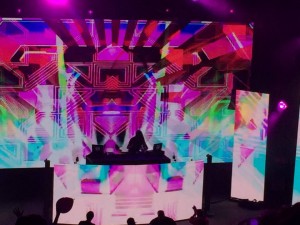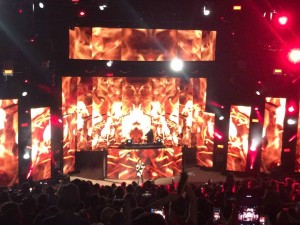 On Friday night, Bassnectar had announced to the crowd that he didn't care about the new rule in regards to noise pollution for Red Rocks. He said he was going to be as loud as he wanted all weekend and he would just pay the fines. I thought that was awesome and goes to show how much love he has for his fans.
I also loved that he had a singer come up on stage at one point and accompany him in one of his songs. It created a unique feel to the overall production and I think it sets him a part from other artists in general.
The best part though, and I'm sure everyone who attended would agree, was when Bassnectar delivered a powerful message, originally given by Bill Hayes, in which Bassnectar compared life to an amusement park in which we think is real because that's how powerful our minds are.
Bassnectar's production is unlike anything you will ever see I think. You can really feel his passion radiate through his music and I definitely want to see him again. My only disappointment was that I wish I went for all three nights. Everyone around me was so happy to see their favorite artist and it made me happy to be surrounded by people with such great energy.