Before Fourth of July Weekend, Red Rocks Amphitheatre hosted a show titled Dead Rocks with well-known Zeds Dead. Before them was Dillon Francis, Paper Diamond, Haywyre, Mija, and Hunter Siegel.
Paper Diamond was the first DJ I saw, and I didn't see much of him. What I did see of him I didn't think was that great to be honest. His short set was just OK to me. He didn't play long because what was once a very sunny day turned into rain and hail. He started packing his equipment up and in response, the crowd chanted "Rain or Shine!" He didn't come back on though and we had to wait a while for the rain to stop for Dillon Francis to start his set early.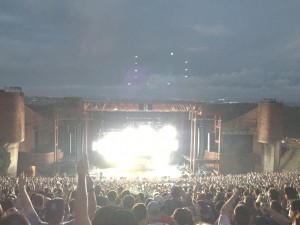 I've seen Dillon Francis twice before this set at Red Rocks. I had a good time both times, but never found his shows to be very exceptional or anything. I wasn't expecting much from his set this time around, but he proved me wrong.
First off, Dillon Francis is just known to be arrogant. Ask anyone who's into electronic music and you'll get mixed opinions of Dillon Francis. Some will say they dig his music; others will say, "Oh, that asshole?" I couldn't help but laugh through his set when he incorporated his own face into his visuals. He played a small clip of himself at his own pretend birthday party. I thought it was hilarious and I loved his use of popular emojis in the visuals as well.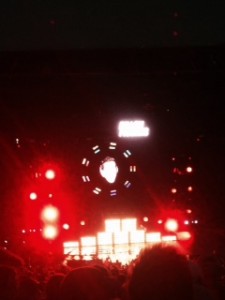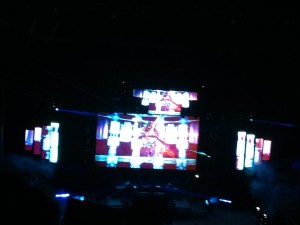 As for the music, I thought he performed really well compared to the previous few times I saw him. He had a lot of his Dubstep sound in the beginning of his set, but as he eased his way through, he started incorporating his other side "DJ Hanzel", his deep house alter ego.
Overall, his set was unexpected in a good way and I thought he was a great opener for Zeds Dead.
Zeds Dead's set was amazing. I'd even say that it was the best Dubstep set I've seen. And it wasn't just Dubstep that they touched into Thursday night. The two DJs masterfully explored other subgenres that night as well. They truly have their own unique style and they successfully showed that at Dead Rocks.
One of the things I like about a DJ duo is that as an audience member, you get to see two friends just go back and forth with creating a sound for the listeners to enjoy. I could feel that fun energy from Zeds Dead and it made the show even that more enjoyable.
The two also seem just very genuine in their love of making their music. They got emotional at the end of their set stating how grateful they were for playing at Red Rocks and that they hoped to come back to perform again. I hope they do!