Last night at Cervantes', Terravita performed as part of their Gunpowder tour. Bear Grillz and Said the Sky were also set as the entertainers for the night.
Said the Sky was the first to perform. To be honest, I wasn't a big fan of his. His set went back and forth from being Dubstep inspired to that of Big Room House, which I just personally don't care for. I could also see the crowd wasn't either during those moments. The audience was there for their Dubstep, which Terravita and Bear Grillz very much is. Don't get me wrong…Said the Sky is talented and I'm interested in checking him out again, but for this show it just didn't fit.
Next was Bear Grillz and everything about his performance was entertaining. Bear Grillz doesn't just perform alone; there is The Duck who completes this dynamic duo.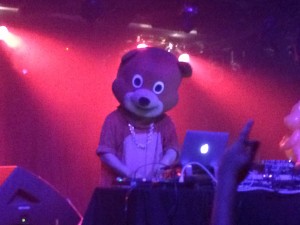 And as you can see, he performs in a bear suit. How great is that? I had never seen him before, so before he came on, I wondered if he would sport a bear suit.
Bear Grillz (along with The Duck to support him) was definitely a crowd pleaser. He incorporated popular songs in his set that everyone could enjoy. The people around me shouted words of approval as each of these recognizable songs blared through the speakers. We were constantly moving and dancing to each song, and I don't think there was a moment where we stopped. And putting it into perspective, he complemented Terravita's performance very well. I highly recommend seeing a Bear Grillz show. I don't think you'll be disappointed.
Terravita was the headliner of this show, and all of the great reviews I've heard about them were truly confirmed this night. I really appreciated how unique this group is. Not only did I enjoy the beats produced, but I found the rapping of their frontman to tie everything together.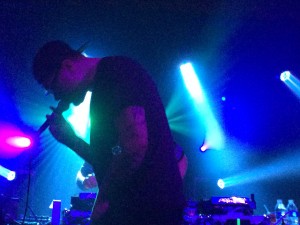 The drops that Terravita produced were incredible. The crowd members couldn't get enough of it. It was obvious that based on their reactions, there was an appreciation of Terravita's artistry. The only disappointment of the night was when someone in the crowd threw himself on stage and danced up there drunkenly. I respected Terravita's cool demeanor and ability to keep performing, but I wish that security would have taken him off sooner. It certainly killed the vibe momentarily, but Terravita was undoubtedly able to fix this through producing their drops and wobbles.